With a digital code, your gift recipient can purchase popular games, add-ons, card packs and more. If you get the error code XBOS3008 when trying to redeem a digital code on an Xbox console or online, this article is meant to help you. This article provides the most appropriate solutions to solve this problem. You may also encounter this error when retrying a failed transaction.
XBOS3008 error when redeeming digital code on Xbox console or online
With the Xbox Live Gift Card, you can gift someone a selection of the best Xbox games, PC games and movie entertainment available – give them the chance to try out the best game titles, apps, movies, TV shows and exclusive accessories, all with a unique gift card.
If you have met the XBOS3008 error While redeeming a digital code on the Xbox console or online, you can try our recommended solutions in the order listed below and see if that helps fix the error on your gaming device.
Check Xbox Server Status
Check your Xbox subscription
Contact Xbox Support
Let's take a look at the description of the process involved regarding each of the listed solutions.
Before proceeding with the solutions below, IIf you have an Xbox Live Gold trial subscription, tThe following limitations and restrictions apply:
If you have an existing Xbox Live Gold paid subscription, you cannot use a digital code to extend the subscription period. However, you can redeem the digital code after your current subscription expires.

Digital codes are only available in certain games and packs.

You cannot access Games with Gold with this type of subscription.

You cannot stack digital codes – this means you cannot start another trial period before your current trial period ends. However, you can purchase a new Xbox Live Gold subscription and start the subscription at any time during the trial period.

If you do not currently have a paid Xbox Live Gold subscription, you can redeem any number of digital codes to receive separate Xbox Live Gold trial subscriptions, but you cannot stack digital codes.
1]Check Xbox Server Status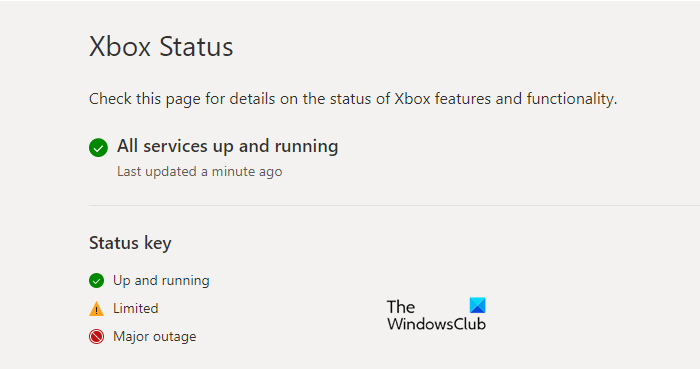 In the event of an Xbox server outage, you are most likely to experience the XBOS3008 error when redeeming a digital code on your Xbox console or online – to make sure this is not the case, you can check the Xbox server status at support.xbox.com/en-US/xbox-live-status – in case of server failure, you can't do anything but wait for the servers to come back online. On the other hand, if all the services are green indicating that the services are up and running, but the error is not resolved, then you are likely experiencing connectivity issues on your Xbox. To rule out this possibility, you will need to test the internet and network connection on your console.
To test the internet and network connection on your console, follow these steps:
press the Xbox button to open the guide.
To select Profile & system> Settings > General > Network Settings.
To select Test network connection.
If the network connection test fails on the console, you can check and fix DNS not fixing Xbox server names issue which can potentially prevent Xbox Live connection; therefore, the question in hand. However, if you determine that the internet/network connection issues are not the case, but the current error is not fixed, you can try the next solution.
2]Check your Xbox subscription
You are likely to encounter the issue in hand as digital codes cannot be redeemed or activated if your Xbox subscription is suspended or has a balance due – if this is the case then to fix the error you need to resolve all outstanding balances and account suspensions before you can use the code – but you cannot use a digital code to pay the balance you owe.
To pay an outstanding balance, follow these steps:
Sign in to your Microsoft account at

account.microsoft.com.
Go to Services & subscriptions.

Locate the outstanding balance.

To select Pay now.
Follow the instructions to complete the transaction.
However, if your Xbox subscription is suspended, you'll need to update your billing address and payment options. To complete this task, follow the instructions in the guide on how to fix error 0x80BD0006 when signing in or using Xbox Live features.
3]Contact Xbox Support
If none of the solutions provided in this article work for you and you still need further assistance, you can contact Xbox Support.
Similar item: Xbox Game Gifting not working
Why can't I redeem a code on my Xbox?
Some codes cannot be redeemed if your Microsoft account is suspended or has a balance owing. In this case, you must resolve all account suspensions and outstanding balances before redeeming the code by contacting Xbox Support.
Do Xbox digital codes expire?
The code must not expire. As long as you have an active account on your game console, whether it's a PS4 or Xbox One, you should be able to install and play the game whenever you want. The only downloads that expire are free PS+ or Xbox Live downloads (if your subscription expires and you don't renew).